Okay so you remember the Slow Cooker Black Bean Enchiladas that I have had on the menu for weeks? Yeah... they are not happening. I actually went to make them the other night and realized that my green pepper was bad. So I had my hubby make this meal instead while I worked. I loved them so much that I made them again last night and now we are out of tortillas for the week!
These were really delicious. Easy to put together and very filling and satisfying. We used whole wheat tortillas for ours. My favorite brand is the Sante Fe Mission Homestyle Whole Wheat Tortillas. They have only 100 calories for a whole tortilla and they are chewy and delicious. They come in a package that looks like this: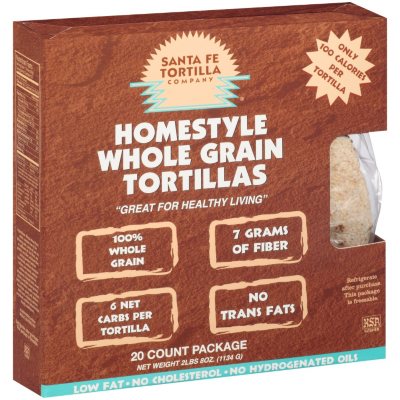 And guess what? The ENTIRE "pizza" comes in at only 280 calories. Wow. And if you don't like the toppings listed? Fine, use what you like. My friend has made this recipe with all kinds of different toppings and I am excited to try some other variations. With a crust that is this quick and easy? Why not!
This recipe is courtesy of Campbell's Kitchen and can be found at this site
HERE
.
Nutritional Information per serving (calculated on MyFitnessPal.com): Calories 280, Carbs 21, Fat grams 12, Protein 28
(Calculated based on whole wheat flour tortillas)
6 flour tortillas (8-inch)
1 jar (16 ounces) Pace® Picante Sauce
1 1/2 cups cubed cooked chicken
1 1/2 cups shredded Monterey Jack cheese (about 6 ounces)
3 green onions, sliced (about 6 tablespoons)
1.
Heat the oven to 450°F. Place the tortillas onto 2 baking sheets. Spray the tortillas with the cooking spray. Bake for 5 minutes or until the tortillas are golden.
2.
Spread about 1/4 cup picante sauce onto each tortilla to within 1/2 inch of the edge. Top with the chicken, cheese and onions.
3.
Bake for 5 minutes or until the cheese is melted.
*We made our pizzas completely on the barbecue. You grill up your chicken until it is ready and set it aside to rest for a minute. Place your tortillas in a single layer DIRECTLY on the bottom of your barbecue on low heat for just 30 seconds to 1 minute. You do NOT want to burn them, just get them a little bit warm and crunchy. Place a layer of aluminum foil on the top rack of your barbecue and flip the tortillas over so that the crispy side is on the top. Place your ingredients on top (hopefully you sliced the chicken by now or had your adoring husband do it) and close the barbecue. You can turn the heat up to medium and just cook until the cheese melts. Try to avoid opening the barbecue as much as possible but check the bottom of your tortillas occasionally to make sure they aren't burning. Slide off onto a plate - yummy!!!